Save Time & Shop Your Way at Larry H. Miller Super Ford
YOU can now decide how YOU want to purchase your next vehicle
Whether you're looking for a complete online buying process, or you're just interested in saving time in the dealership, our Shop Smart Online Buying tool allows you the convenience to do as much, or as little of your next vehicle purchase online as you want.
Explore Our Tool by Clicking the Tabs Below
Learn more about our Smart Shopping process, and familiarizing yourself with the tool. Learn more about:
How Smart Shopping can save you time
What to expect when going through the process
Ready to get started?
Simply find your next vehicle and click the 'Express Purchase' or 'Build Payment' button beneath the vehicle's price.
Upgrade
Vehicle Delivery
---
Upgrade your deal adding vehicle delivery. No need to come into the dealership when one of our sales representatives can bring your new vehicle to you.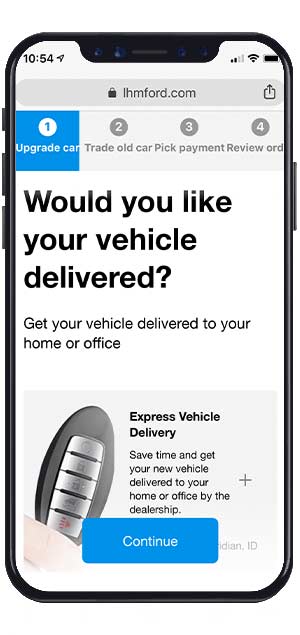 Trade
Trade-In
---
Do you have a vehicle to trade? By providing your trade's information we can give you an instant trade value that will be applied to your deal. This makes the payment information more accurate and will save you time.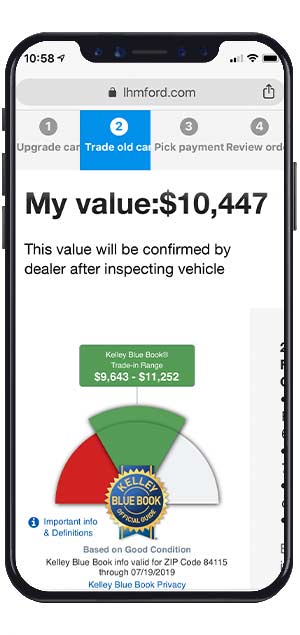 Payment
Personalize Payments
---
Help cement realistic expectations for what deal is best for you. Specify whether you'd like to purchase or lease and make adjustments to find your perfect monthly payment.
This tool empowers you to:
Determine Your Buying Power
Explore Deal Details
View Applied Offers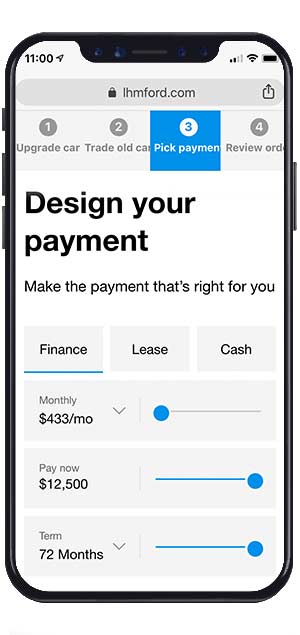 Review
Review Your Deal
---
Review your deal before submitting your deal. You will be able to see all your add ons, applied offers, and your trade.
After submitting your deal, one of our sales consultants will be contacting you to review your order and verify your information before finalizing your purchase.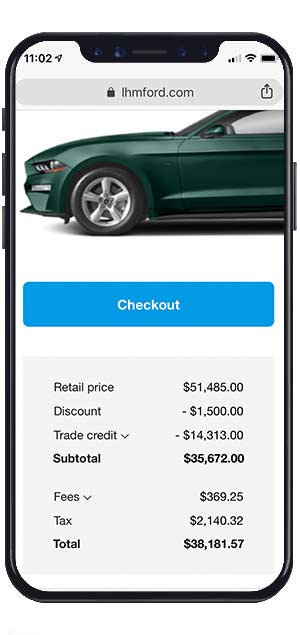 Review
Review Your Progress
---
You can view your deal at any step of the process. See your add ons, applied offers, and your trade.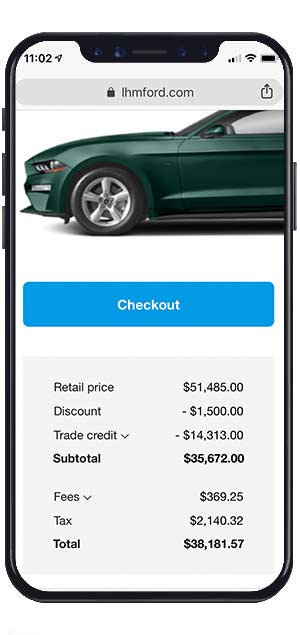 Contact Us
Have a Question?
---
Easily contact us during any step of the process. Give us a call, email, or get directions to stop by.
Save
Save Your Progress
---
You can save your progress at any point! Simply provide an email or phone number and a link will be sent providing the capability to resume your order from where you left off. No need to provide any personal information like name or address!
Close
Exit at Any Point
---
You can close your order at any step in the process. If you would like to save your progress, you can have a link emailed to text to your phone so you can resume where you left off. Don't feel like saving? You can simply close the window and continue shopping for other vehicles.