The Ford Escape S Trim 2018
By The English Car Guy Dave Hazell

Starting at $23,850, the S is the entry trim level in the Escape lineup. It's also only available in front wheel drive, so if you're looking for a four-wheel drive option, you will have to move up to the SE. Because its only available in front wheel drive it may become a little harder to find in Utah or the surrounding Northern states.
As always, I will break my review into 4 categories Performance, Cosmetics, Safety and Technology. So grab a cup of tea as we take a look at the S Trim Escape.
Performance
It is not the fastest car that Ford has ever produced but it does have enough. Unlike previous years of the Escape, Ford has decided to no longer give engine options within each trim. So for 2018 and potentially longer the S will be paired with the 2.5 I VCT I-4 engine. With that engine come the 6-speed SelectShift Automatic transmission. They pair extremely well and together enable the vehicle to have not so bad torque and horsepower ratings.

168 hp @6,000 rpm and 170 lb.-ft of torque @4,500 rpm
The gas mileage is good but not great. If you're looking for better, I would again suggest you look at the Escape SE or SEL with the 1.5L EcoBoost I-4. The 2.5 will average the following on miles per gallon.
FWD 21 city/29 highway/24 combined
The 1.5L Ecoboost will get on average about another 2 mpgs better. Now here's where a little bit of math comes into play. The gas tank size on an Escape is 15.7 gallons. We take that number and times it by the combined mpg which is 24. This will give us the answer to, "how many miles can I drive on a single tank of gas in my Escape?"
15.7 gallons' x 24 combined mpg = 376.8 miles on a single tank of gas
Based upon current gas prices here in Utah which I got from Gasbuddy.com I can take the number of gallons in a tank and times that by the current price which right now is $2,30. This will give me the answer to "How much will it cost to fill up my Escape?"
15.7 gallons' x $2,30 = $36.11 to fill gas tank
I now know that 376.8 miles' costs $36.11 and based on an average of 12,000 miles per year, I know that I would need to fill up my Escape 31.9 times. So to work out cost per year on gas I would do the following.
$36.11 x 31.9 fill up times = $1,151.90 Per year is gas spend
The 1.5L Ecoboost will save you about a $100 a year in gas over the S but at only $1755 price difference and sometimes extra rebates it maybe something to explore with your salesman.
Make an Inquiry
More articles you may like 
---
Click on the image to expand: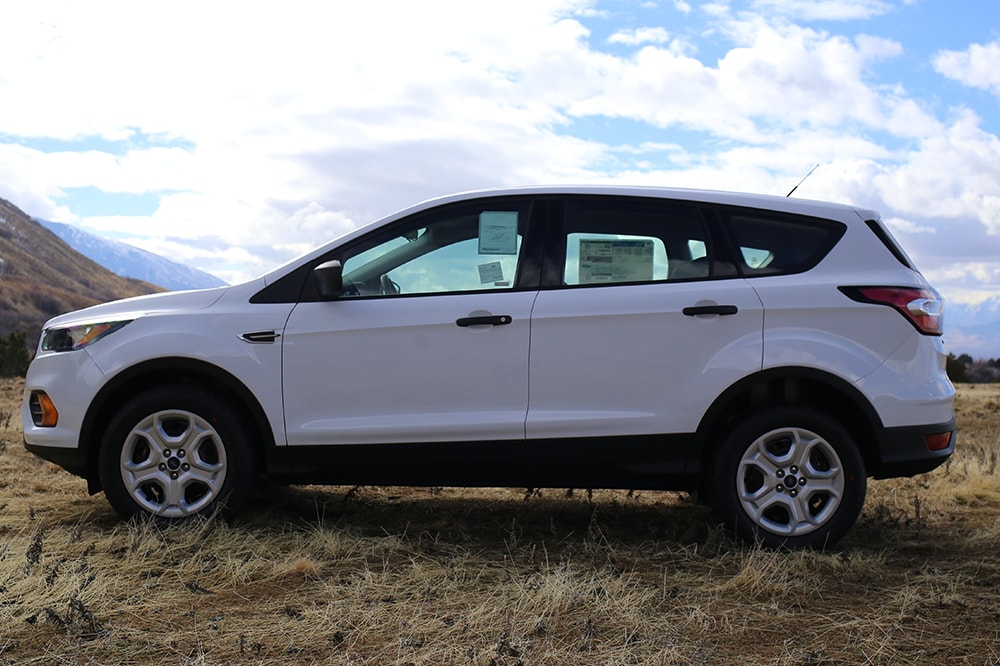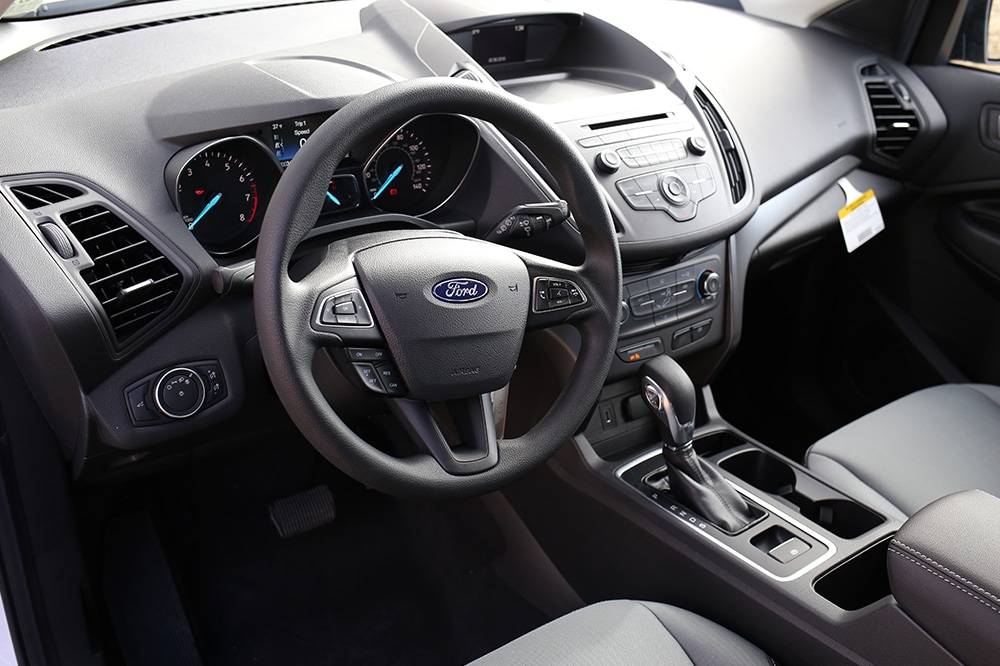 ×
Cosmetics
Thanks to Dallin you can see for yourself some of the exterior features that come standard on the Escape S. The Escape above and below features the 17' Steel with Sparkle Silver-Painted Wheel Covers. You can upgrade to the 17" Sparkle Silver-Painted Aluminum Wheel that is standard on the SE and SEL for an additional $595. I would recommend against that as then you might as well just purchase a SE FWD.
The exterior has no available upgrades so what you see is what you get. All trim parts are found in a black plastic which looks cosmetically appealing, especially on the Oxford White or Shadow Black. Also two out the ten color choices are unavailable (White Platinum and Ruby Red) those available color choices are Oxford White, Ingot Silver, White Gold, Cinnamon Glaze, Blue, Lightning Blue, Magnetic and Shadow Black.
In the interior you also only get left with one Interior seat trim color which is Charcoal Black Cloth, again if you want a light interior you will have to move to the SE trim package though this interior is more grey than black. The seats actually aren't that bad, in previous base level trims cough, cough Focus we have had some strange ugly patterns but not on the Escape. It also does not look cheap and features like the small display in the center of the dash make the inside not feel like a second thought.
Safety
The Escape received a 5 out of 5 star overall crash test rating from NHTSA (National Highway Traffic Safety Administration) which you can view at Safecar.gov. This gives you the peace of mind to know your family and friends are safe in a Ford Escape. The S loses no safety features over the higher models unless its technology based. Here are some of the following features you can find. (If the word is highlighted and you like to learn more please click to be taken to a small write up and video) Personal Safety System, Front side, Knee and Canopy airbags, LATCH System, MyKey, SOS Post-Crash Alert System, Tire Pressure Monitoring System and AdvancTrac with RSC (Roll Stability Control).
All of these features are now standard on the Escape and have become a big reason to to why Ford are considered the best in the game when it comes to the safety of our customers (Family).
Technology
As I'm sure you're aware the Escape S is an entry level Escape so don't expect too much but what you do get may surprise you. Rear view camera is now standard which is a must for most Utah neighborhoods. Also standard is Sync with 911 assist which enables you to have a paired Bluetooth device to your vehicle and unlike Chevys OnStar its completely free. Other features like the available USB port allows you to play music, charge a phone or even use Apps on your phone like iHeart radio or Pandora.
Review
The Escape S is a fantastic vehicle and option for some. If you're a company, a rental fleet or you plan on using the vehicle for Uber or a taxi type service its ideal. However, I would highly suggest spending a little bit more money for an SE if you plan to make this your personal vehicle. I hope this article helps if you have a question please feel free to write a comment in the comment section or email me directly at
SuperFordTV@Gmail.com.
Cheerio!